Preschool Music Classes in Strafford, PA
It's no secret that kids love music, and at Assumption Academy, we nurture every student's natural love of music. Our preschool music class is taught by educated, highly trained professionals. They activate kids' imaginations, allow for self-expression and help Strafford, Devon, and St. Davids, PA kids connect with each other all through the power of music.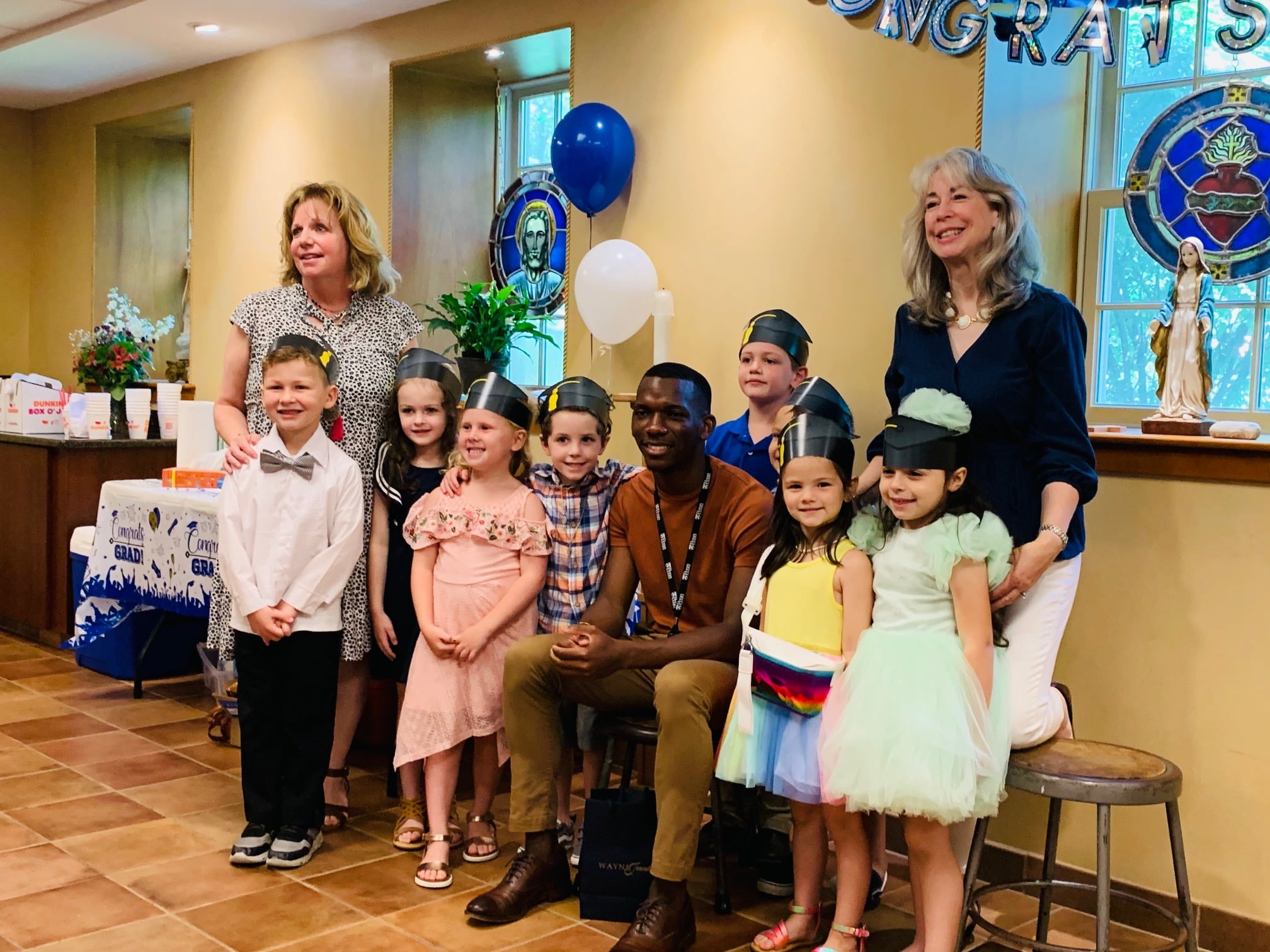 Our Music Preschool Curriculum
Research shows that music nurtures a child's emotional, social, cognitive and language development. We follow a movement and music preschool curriculum that allows kids to express themselves to the fullest with active listening, singing and playing simple instruments. Each lesson is geared toward teaching young minds important musical concepts.
Our instructors are trained and certified in early childhood music education. Our preschool music classes provide opportunities for children to interact with each other, and we foster a fully-supportive environment for kids of all skill levels and backgrounds.
---
Skills and Benefits
Our music preschool curriculum enriches the minds and imaginations of some of the youngest learners in Strafford, PA. Some of the benefits of an early introduction to the world of music include:
Enhanced attention and focus. Repetition through music improves a child's ability to memorize and recall information.
Teaching patience. Music gives kids an opportunity to take turns, wait patiently and even work cooperatively in a group.
Teaching patterns. Music helps kids notice patterns and nuances, and even introduces them to timbre and inflection in sounds, which is a critical skill for interpersonal communication that can be taken all through life.
Children are given many opportunities in terms of both self-directed exploration and directed learning. They can get down and dirty working in the garden, weeding, planting and harvesting. They also get the chance to feed, entertain and clean up after the chickens, experiencing the magic of animal life firsthand.
---
Pre-School & Kindergarten Curriculum
1. Singing Alone and with Others

1a. Students sing alone and on pitch and in rhythm with appropriate diction and posture.
1b. Students sing expressively with appropriate dynamics.
1c. Students sing from memory a varied repertoire of multi-cultural songs.
1d. Students sing in groups responding to the cues of a conductor.
1e. Students recognize upward and downward movement of music.

2. Instrumental Performance

2a. Identify classroom percussion instruments.
2b. Students perform easy rhythmic patterns while maintaining a steady tempo.
2c. Students perform in groups with musical accompaniment, responding to cues of a conductor.

3. Composition and Improvisation
4. Movement

4a. Students respond rhythmically through movement to various works and styles.
4b. Students dramatize various songs and moods.

5. Reading and Notation
6. Listening Skills

6a. Students identify styles, rhythm and moods of various songs.
6b. Students identify vocal qualities.
6c. Students identify various environmental sounds.
6d. Students identify sounds of a variety of instruments.

7. Evaluation
8. Integration
9. Understanding Music Historically and Culturally

9a. Students demonstrate appropriate audience behavior.
Learn More About Our Music Programs Today
Assumption Academy believes that music is a powerful way for kids to explore and discover themselves as well as those around them. Learn more about our special music classes, the rest of our STREAM curriculum for preschoolers, and our kindergarten enrollment requirements and contact us at 610-688-5277. It's never too early to introduce your child to the many benefits of music education!